About the Wellglade Group
The Wellglade group consists of 5 different company identities. These are Trent Barton (the formerTrent buses, and Barton), Notts + Derby, Kinchbus, Midland General and TM Travel. The group operates into many different counties the main ones being, Nottinghamshire and Derbyshire, Leicestershire and Sheffield.
The company is based at Langley Mill, which is just outside Heaner in Derbyshire. There are many other depots around the operational areas. There are depots at, Derby (Meadow Road), Dove Holes, Langley Mill, Nottingham (Manvers Street), Sutton Junction (Midland Road). The Derby depot houses many of the Notts and Derby buses although some are kept at other locations.

The Kinchbus depot is at Loughborough, with their services operated around the town and across the borders in Nottingham and Leicester.

TM travel are based in Sheffield, and operate services around the city aswell as local services in Chesterfield and throughout the Peak District.
Trent Barton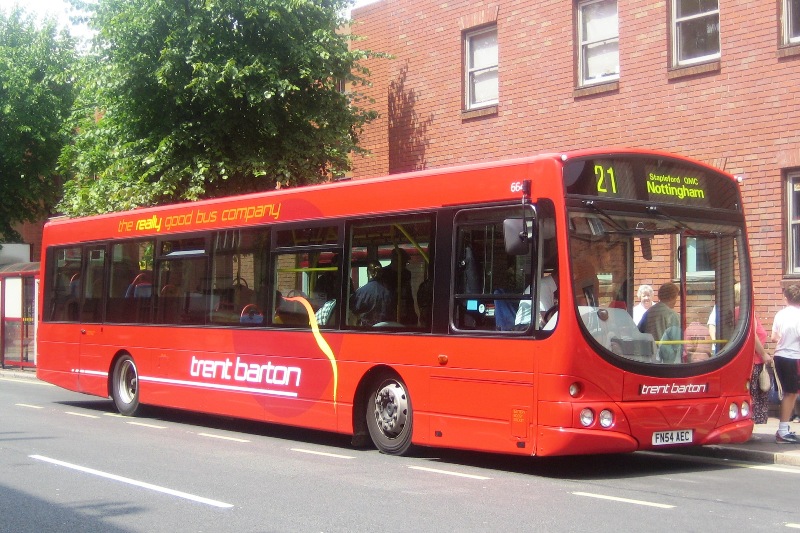 Here is Scania 664 in Ilkeston in the standard Trent Barton livery.
Trent Motor Traction and Barton Transport joined in the late 1980s. The standard livery is red, however most of the vehicles are now route branded, leading to a variety of liveries. The majority of the vehicles are Wright bodied Volvos and Scanias, although Optare Excels, Solos,and Tempos make up a large proportion of the fleet. Two surviving Dennis Darts are at Dove Holes for the local town services in Buxton. The entire Trent Barton bus fleet is now low floor. Volvo B10M coaches operate part of the transpeak service, and Scania/Irizar coaches are used on the Red Arrow coach service to Nottingham and the Commuter Xprss service in Nottingham. A number of Optare Tempos, Solos and Versas are on order over 2011/2/3.
notts&derby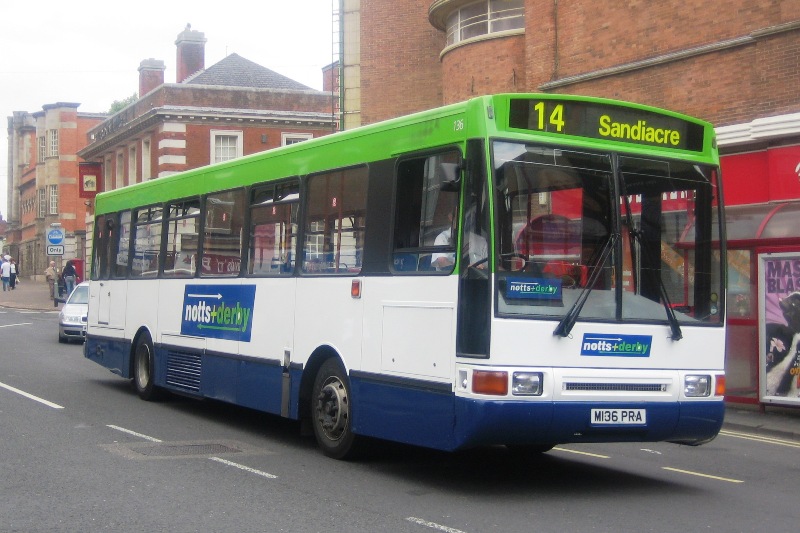 Former Trent Paladin 136 in the Notts + Derby livery. Seen here in Ilkeston.
The Notts and Derby traction company is also owned by the Wellglade group. They operate Unibus network of services, serving the University of Derby and the High Peak Campuses aswell as low cost services with infrequent journeys on most. Free shopping buses, works services and other contract work is also undertaken. The bulk of the fleet is now made up of Volvo B10Bs/Paladins, alongside a quantity of Leyland and Volvo Olympians, and recently 4 low floor Plaxton President bodied Volvo B7TL. Recent times have seen the number of low floor buses within the fleet increase. A number of Optare Excel and Optare Solos are now used on Unibus work, along with 5 Dennis Darts. Most vehicles are in standard Green white and blue livery, or Unibus blue and white.
Kinchbus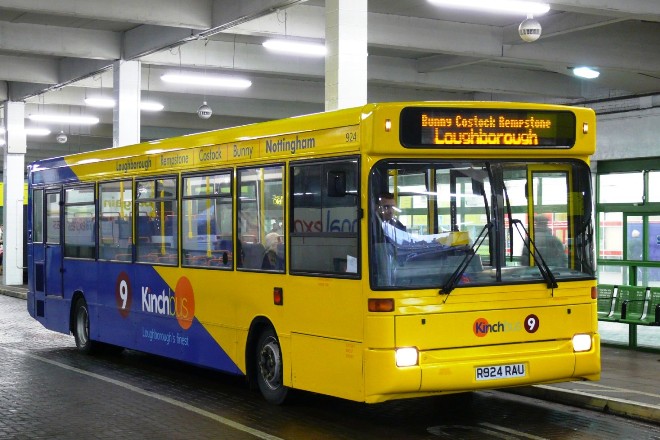 Dart 924 in standard Kinchbus livery, with branding applied for route 9. (C) John Carnell

Kinchbus operates many routes in the Loughborough area. It has only been part of the Wellglade group for the past few years since the late 1990s. The fleet consists of a variety of vehicles, including Optare Tempos and Solos which were new to the fleet. New Volvo Centros are used on the Skylink service (along with two ex trent Scanias). Former Trent Scanias are used on route 2, and older Leyland Olympians are retained for school work. The livery is blue and yellow. Route branding is carried on many of the buses. Two Darts have just been re-instated for use on route 9.
Midland General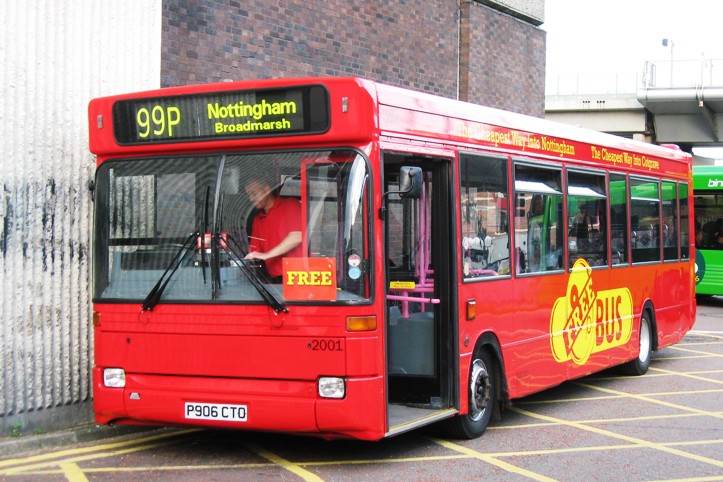 Former trent barton Dart 906 branded as a bargain bus for Midland General services in Nottingham. (C) J Carnell.


Midland General only have two buses that carry fleet names, former Trent Vario 286 and an MPD. These are used on a services in the Sutton and Mansfield areas.

Dennis Darts have recently been introduced on two routes in Nottingham, branded as bargain bus.
For a complete fleetlist for the whole of the Wellglade group click here