Bus Fleet News
November 2010
---
Latest News
---
Here you will find all the latest bus fleet news for many bus operators in and around the Derbyshire area. If you have anything to report please contact me by clicking here.
---
---
NEWS
-
---
---
NEWS
17th Nov:
MPD 2221 has moved to Stafford.

Almost all services in Derby are being revised from Sunday 9th January. The changes include routes 33 and 36 being merged into circulars, with every other journey serving the Royal Hospital. The routes will be numbered 33/33A/36/36A. Evening services are expected to be changed on most routes.


---
---
NEWS
3rd Nov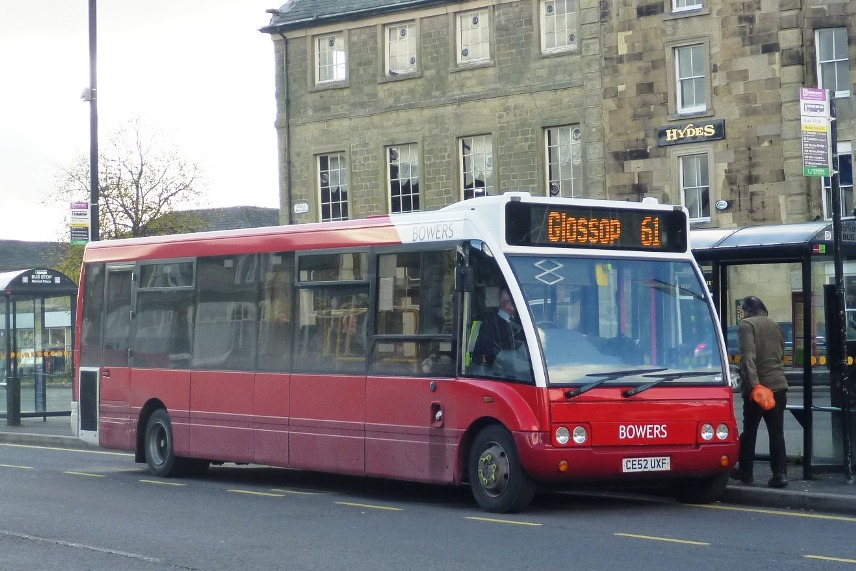 Solo (CE52 UXF) now carries this new "centrebus style" livery. Seen here in Buxton.
(C) -

Mercerdes 0814 Vario/Alexander 436 (R154 UAL) is a recent transfer here from Centrebus, Hinkley.
Another recent arrival is (L108 VDM), a Scania N113CRB/Alexander (B48F) in all over yellow. This was previously with Avon, Prenton.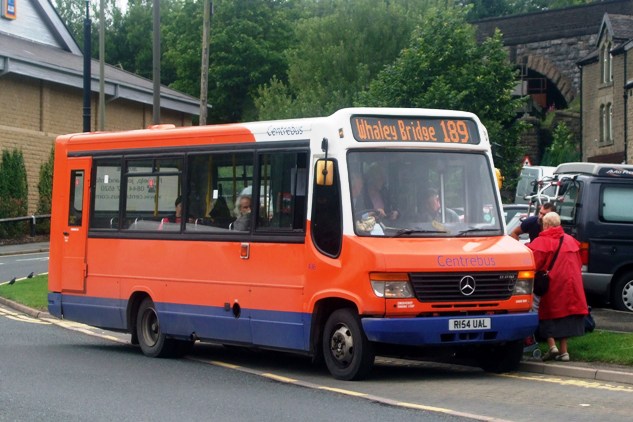 Mercedes minibus 436 (R154 UAL) in Buxton.
(C) Nick Mannion

9th May
Former Fox Vario (R154UAL) is in use here in Centrebus livery. 2 white Tempos have also been in use.


---
---
NEWS & Sightings
-
---
---
NEWS & Sightings
17th Nov
Varios (R167 UAL), (R183 OCW), (S279 LGA) and (S287 UAL) were delicenced during September.
Darts (R556 UOT), (P301 HDP), and (P308 HDP) have been advertised for sale.

(P301/4 HDP) remain in use, however the 8 newer Darts and 6 Solos make up the core service fleet.

Vecta 801 remains stored.

2nd August
Vecta (M801 PRA) has been withdrawn. Merc (S750 RNE) has also been withdrawn for the last few months, and may have already gone for scrap.

---
---
NEWS

31st March
The new Volvo Centro is (FJ10 NFV),and is expected to be in service on the black cat service tomorrow.

---
---
Gills Travel

-:
---
---
G&J Holmes

NEWS
-
---
---
Glovers of Ashbourne


NEWS
5th Nov
Primo (YN55 KMV) has been re-registered (AIG 4698).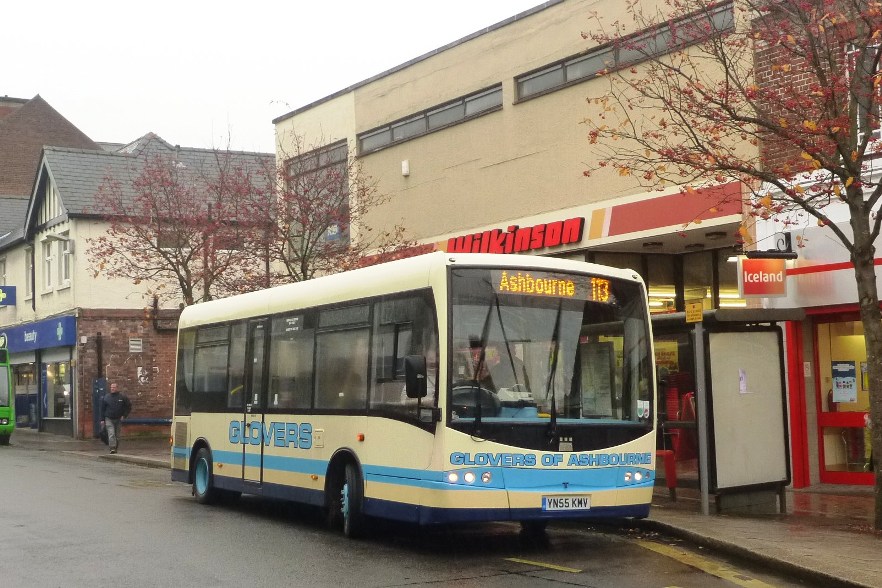 Former TM Travel Plaxton Primo (YN55 KMV) seen here in Belper on service 113 to Ashbourne.
(C) -

New arrivals here are former TM Travel Plaxton Primos (YN55 KMV) and (YN55 YSC).
Dart (AIG 4698) now carries its former reg (J506 GCD), and was for sale on ebay a few weeks ago.
---
---
Harpurs Coaches


NEWS + SIGHTINGS

2nd October
2 more ex Dublin B6's have arrived via ensign. (99-D-60001/8) are now (V736/5 PHJ).

A new arrival here is ex Dublin Wright bodied Volvo B6 (V728 PHJ), which is in use in a yellow blue and brown livery. It has arrived via Ensign, and was previously (99-D-60007) - or was it (99 - D - 6002)???.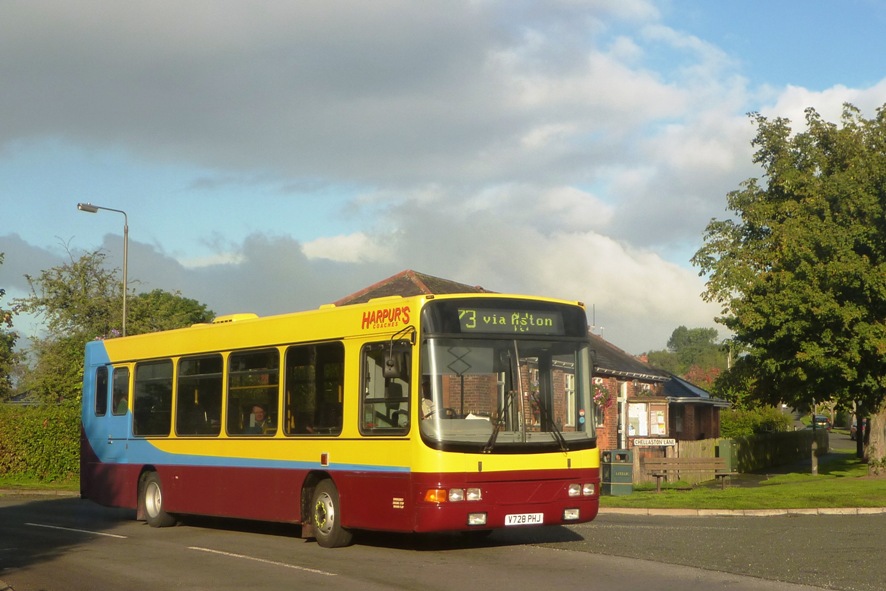 Former Dublin B6 (V728 PHJ) seen here in Weston on Trent on its way to Derby.
(C) -
---
---
Hawkes Coaches

NEWS
---
---
Hulleys of Baslow

NEWS + SIGHTINGS
16th June
The new number 2 in the fleet is MAN / MCV EVOLUTION (AE05 EVC) from Alliance and Leicester (dealers rental fleet). It replaces (P881 PWW) which was written off in an rta last month.
---
---
Johnson Bros / Redferns


NEWS & SIGHTINGS
25th November
Johnson Bros have acquired 2 Dennis Tridents from Stagecoach Manchester, replacing 2 of the Scania/Northern Counties deckers, one of these withdrawn with fire damage and the other has been dispatched for scrap.

The Redfern Excel also reported off and delicenced.

The Enviro 400 that was here was on loan, and has now been returned.

14th September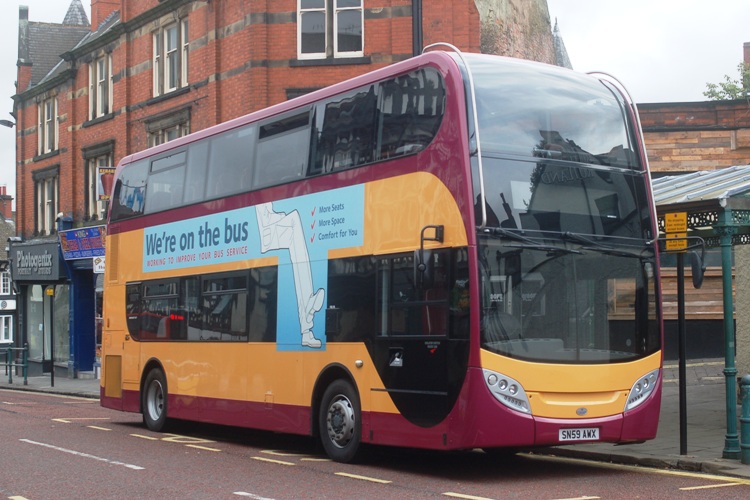 A new addition to the fleet is Enviro 400 (SN59 AWX), seen here in Chesterfield on the Bingo bus.
(C) John Moore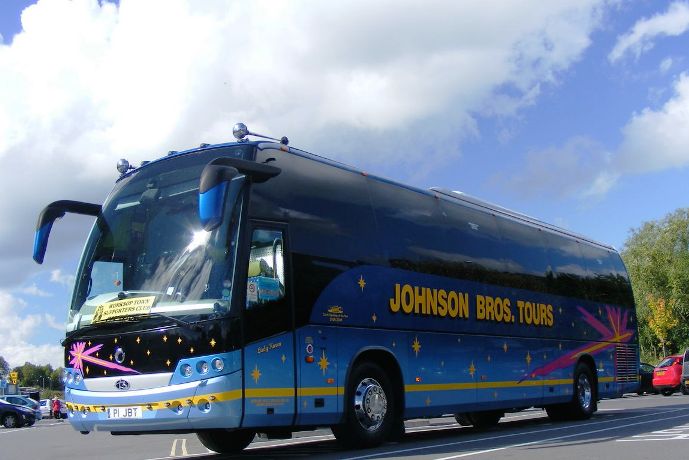 Cracking photo of (P1 JBT) in Matlock.
(C) Ian Moorcroft



26th May
Two new plaxton Panther bodied coaches to arrive here are (YN10 AAE) and (YN10 AAF). Both are in white and carry coachholiday.com branding.

---
---
Linburg

NEWS + SIGHTINGS
-
---
---
Littles Travel

NEWS + SIGHTINGS
Thurs 14th October
Two Metrobuses have arrived here from Skills, one of which is ex Harrow (E476 SON).
---
---
Midland Classic


NEWS
10th September:
Dennis Falcon (K212 UHA) has now been painted into Midland Classic livery, and is in use.

4th September:
A new direct service numbered X12 (Burton - Lichfield) starts on 6th September.
Former East London Dennis Trident 91 (V118 MEV) has arrived here via Southdown PSV.
Dennis Dart SLF / Plaxton Pointer 24 (P409 BNR) has been repainted and re-trimmed, and gained fleet number 24.


---
---
Premiere, Nottingham


NEWS
8th September
Last Monday saw the introduction of Premieres latest Red route in Nottingham, the Red 2 to Cotgrave. 3 Solos have been branded for the service.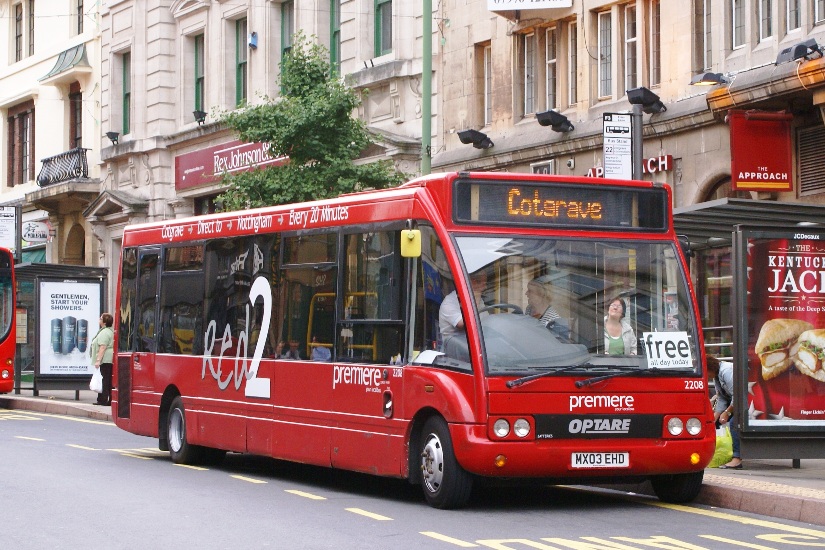 Solo (MX03 EHD) is seen on Friar Lane last Saturday, when passengers had the opportunity to try Red 2 for free before the service began the following day.
(C) Alf Cundy
---
---
Stagecoach East Midlands
Chesterfield, Mansfield, Worksop
NEWS
8th September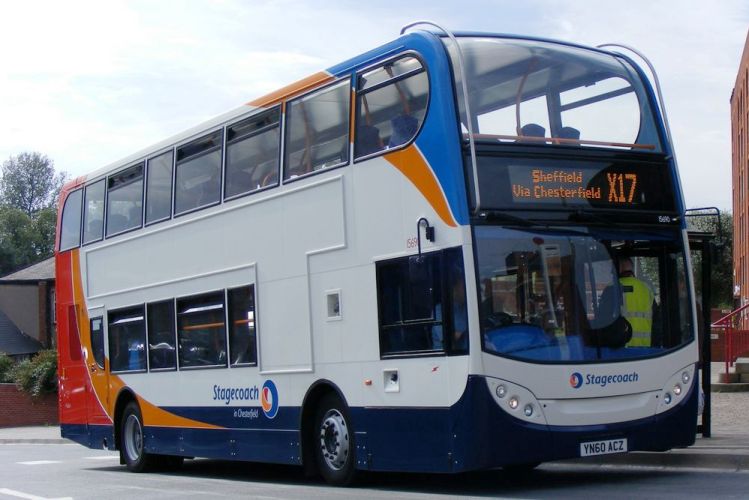 .
(C) Ian Moorcroft

Brand new Enviro 400 15690 (YN60 ACZ) is seen here in Chesterfield on the X17 service. More are due in service soon, which will see most of the remaining Olympians being withdrawn.
To keep up to date with Stagecoach in Chesterfield, and many other operators in the area, take a look at the excellent Transpire website.


---
---
TM Travel


NEWS:
See Wellglade section.
---
---
Translinc
NEWS
:
---
---
The Wellglade group
trent barton, kinchbus, notts+derby and T M Travel.
NEWS
4th December:
Darts 911, 918, 932. 2004-7 are additions to the Midland General fleet.

2004 (P911 CTO),
2005 (R918 RAU),
2006 (R921 RAU)???,
2007 (R932 RAU).

Darts 921/3, 924/8 have been withdrawn at TM Travel.

Varios (YN53EJX, MX04VMK, YN54WWU/V) have been withdrawn. (T455 HNH) remains in use.

5th November:

Former kinch and notts+derby Dart 891 (L403CJF) is seen in service here with its new owner GRS Travel, West Brom.
(C) Tony Hunter
West Midlands Buses in Photographs

3rd November:
Former Notts and Derby (and Kinch before that) Darts 891/2 (L403/4 CJF) have gone to GRS Travel, West Brom. 891 is in use in notts+derby livery.

Due to running fewer contract services, TM Travel have withdrawn Darts 921, 923, 924, 928. The first two had recently been repainted, although the other two still carry Kinch and Trent liveries. Paladin 105, which was in use on schools has also been withdrawn, and Dart 895 will not be used here (previously reported as a transfer).

2nd November:
264, the Excel for the 409, is outstationed at Phil Smith Travel at Stramshall (nr Spath).
Dart 930 is now at Dove Holes along with 949. Dart 932 remains in use at Langley Mill.
Excel 225 has transfered from Dove Holes to Sutton.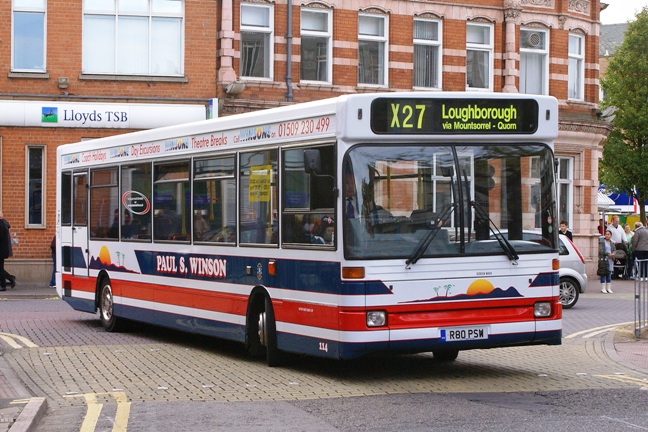 Former Trent Dart 925 (R925 RAU) in Loughborough.
(C) A Cundy



26th October:
Excel 264 has emerged from the paintshops in a green livery (same as the Spira Solo below) and carries sparse branding, well a sticker in side window, for tendered route 409 Ashbourne to Uttoxeter.

Dart 930 has been repainted in trent barton red and is now based at Dove Holes, where 949 also currently resides. 225 is expected to transfer to Sutton soon to displace a Dart.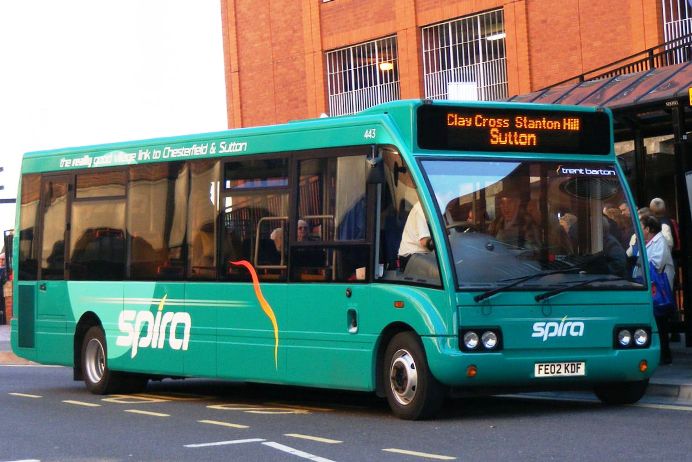 Solo 443 in Chesterfield, on the new Spira service.
(C) Ian Moorcroft

14th October:
Derby College Excel 161 and Transpeak 157 are withdrawn at Langley Mill.

Excel 199 Sold to Wrights, Newark. 900 is with Richard Bros, Newport.

DAF / East Lancs 1153 is in use with N+D painted all over white. Olympoian 720 is also in use in Kinchs yellow schoolbus livery.
TM Travel Plaxton Primos (YN55 KMV) and (YN55 YSC) have been sold to Glovers, Ashbourne.

Solos 431 and 443 have been painted for Spira, a re-jigged route 241 which will continue to Chesterfield instead of Mansfield. The Solos are in an Aqua type livery.

5th October:
Trent have announced an order for 65 Optare buses. 17 Solos, 9 Versas and a whopping 39 Tempos will be delivered over the next 3 years. The large order for Tempos is somewhat of a surprise following their disapointment with the previous batch which were publicly described as "beyond a joke" in their online newsletter: Click here for newsletter.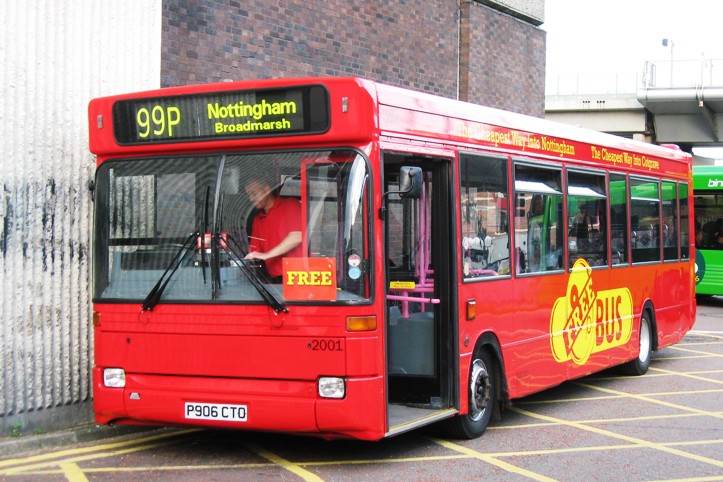 Dart 906, now renumbered 2001 at Broadmarsh Bus Station. Service 99p is running free of charge all week, before the service starts officially on Monday.
(C) John Carnell

2nd October:
Olympian 720 has transfered from Kinchbus to notts + derby.
Another transfer to N+D is DAF / East Lancs 1153, although this may only be here short term.

Darts 906/7/16 are now part of the Midland general fleet. They have been painted red for the new 99p route from Nottingham to Cotgrave, which begins on Monday. The vehicles are now numbered 2001/2/3.


---
---
Yourbus, Nottingham
NEWS
25th November:
A correction to the below, 1108 is (S838 VAG). All the below are ex Thamesdown and were new in 1998. 1108 was a demo bus for two years, joining Thamesdown in 2000.

September 8th :
The following Plaxton Pointer Darts have arrived here in the last month or so:
1104 (S184 BMR),
1105 (S185 BMR),
1106 (S186 BMR),
1107 (S181 BMR),
1108 (S838 BMR).
---
---
Last Months News

News Index Page
---