Ailsa 71
---
This unique vehicle is the only low height Ailsa ever built. It was ordered by Derby Borough Transport in 1974, and many problems were encountered duting its construction - not least, the fact that the ground clearance between the gearbox and the road surface!
71 eventually arrived at Ascot Drive depot on 2nd February 1977 (as fleet no 40!!) and entered service on the 17th February. By this time the notorius railway bridge in Willington has successfully been negotiated on a test run.
During the following 12 years the bus operated mainly on the Willington and Etwall (former Blue Bus routes) between Derby and Burton on Trent. Appearances were also made on local City and Country services after deregulation.
In March 1989, this vehicle was withdrawn by Derby City Transport Ltd and sold on to Eagre of Gainsborough, in June of the same year, for further use. After seven years service in Lincolnshire, in August 1996 the Ailsa moved further north, over the border, to Doigs of Glasgow. Its career here was somewhat short lived. It was withdrawn from regular passenger service in December 1997.
71 was secured for preservation by Keith Billingsley, in February 1998. It appeared at rallies that year. A period of storage then followed, and in 2001 the bus moved back to Black Prince of Morley, West Yorkshire. Another 2 years passed, before Black Prince commenced the restoration in the autumn of 2003.
Richard Woodhead and Andrew Smith purchased 71 in April 2005, and intend to continue the restoration process. The vehicle has a full class 6 MOT and is presented in original Derby Borough Transport livery.
A few little known facts!
1) Intended as fleet no 40, but was changed to 71 before entering service.
2) Original registration was (RTO 1R), re registered to (TRR 814R) in Feb 1989.
3) The original registration was sold to a man of the cloth - and is still used today.
4) The height is 13ft 8". Yet somehow it fit under the railway bridge in Willington which was 13ft 3"! Since resurfacing, the bridge is now 13ft, and the Ailsa can no longer pass under the bridge.
5) It was the pre - production prototype low height Ailsa, and was planned to be a forerunner of a series of buses for the Scottish Bus Group.
6) The Alexander bodywork is unusual, having deeper windows on the top deck, compared to those on the lower deck.
7) the upper deck has a conventional seating layout at the front, with a rearword ascending staircase. Full height Ailsas had a forward ascending staircase and no seats at the front.
8) The seating capacity is 43 on the upper deck and 34 on the lower deck.
9) Certain offside seats on the lower deck are wider than usual, this being due to the fact they are situated on top of the gearbox.
---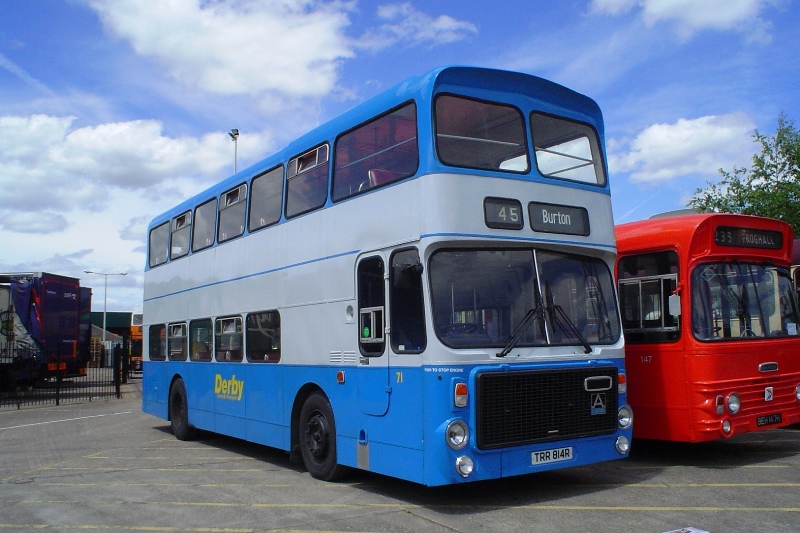 A photo of 71 at the Bass Museum (COORs visitor centre), attending the bus rally there on 3rd July 2005.
---